I recently came into ownership of a 1965 Richardson Avalon 14′ cedarstrip boat. The history of the manufacturer is somewhat cloudy, but it appears in 1962 the former General Manager of Peterborough Canoe Company, the company that built most of the cedar strip runabouts, bought Lakefield Boat Co and renamed it to Richardson Aquacraft, also Rilco Industries. [source] The boat has the Richardson name on the side, but the Rilco name on the manufacturer's tag. It was purchased either new or very new by a friend's grandfather and was used at the family cottage until the late 1990's, after which it was stored in a garage.
The boat is more or less in reasonable shape for its age. It comes with the original 1965 Evinrude 33HP motor, which looks to be in excellent shape. My brother has graciously volunteered to have a go at bringing it back to life. After pulling out the seats and hardware, the real work starts to become apparent. While most of the ribs are intact, there is a lot of rot in the inner stem and the ribs in the front. Most of the ribs at the front will have to be replaced, as will the solid oak inner stem, and possibly the keel as well. There is a bit of hogging in the keel, which can be sorted out, and there is a slight twist in the boat which can also be straightened.
Here's a picture of the boat sitting on its new cradle.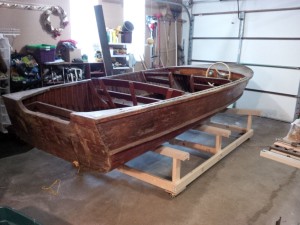 And another random one showing what the inside looks like. The planks and seats and deck are all cedar, and anything structural looks to be either oak or ash. The screw driver is laying on a seat support, and the ugly block is where the throttle assembly hung off of. Pretty much every screw and bolt is original and completely rusted, and each one takes a lot of work to get it out.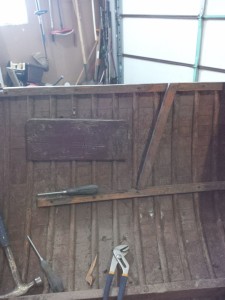 I ordered a DVD from Donald Husack on how to restore a boat like this, and it was well worth the money even after watching only the first thirty minutes.
I'll try keep this page updated as I go along.